Company Fine Blanking Company
Company Profile
Kuen Feng Metal Industrial Co., Ltd. specializes in pressing accessories, designing and developing high precision moulds. We are well experienced in pressing production and high precision moulds. In addition, our manufactured products are widely used in electronics, automotive, hardware, hand tools and various industries which also contain famous brand such as Panasonic, Sony, Hitachi, Toyota and so on. Furthermore, we devoted to the orientation of professional production, quality assurance, and customer satisfaction to achieve markets and customers' demands.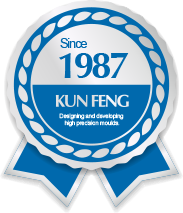 Main Business
Designing and manufacturing

Designing and manufacturing of precision pressing moulds.

Brackets, stands and accessories

Brackets, stands and accessories for TFT LCD, Plasma TV and cabinet.

Hardware pressing accessories

Manufacturing of hardware pressing accessories.

Hi-End audio accessories

Hi-End audio accessories (OEM / ODM).

OEM / ODM

OEM / ODM for various hardware parts.